Today lets talk to Tim Trafford - Designer and Seamster EXTROIDINARE and Lori Trafford - Marketing, Sales, Customer Relations, Packaging, Bookkeeper, Artistic/Creative Additive :) -

Infused Designs- How did you come up with the name for your store?

Red Sky Designs- I had a wonderful father who was in the Navy who took us camping every weekend and understood my crazy love of horses and the outdoors. I sadly lost him when I was 13 - he always said "Red Sky at night, sailors delight.... our shop name is in remembrance of my hero, my dad. :) The peaceful feeling of a beautiful Montana Red Sky in the evening is an incredible picture of creative beauty that is both inspiring and incredibly relaxing and makes some of the daily challenges we all encounter very worthwhile.
ID- That's a very touching story and makes for a great business name. How long have you been crafting, and who taught you?
RSD- Tim owned a seat cover shop over 25 years ago and loved manufacturing, and using his talented, engineering mind to develop and create on his industrial sewing machine - We've been married over 24 years and he has always wanted to get back into industrial manufacturing and sewing the amazing designs that develop in his multifunctional mind - Tim is completely self taught and continually works to perfect every single design from the quality, functionality, aesthetic and good old great looks angles.

ID- Neat! Do you have any formal training in any craft/art subject?
RSD- Neither Tim or I have any formal training in manufacturing or marketing. We are both completely self taught and we LOVE learning everything we can from others and sharing everything we have learned with anyone who wants to follow their creative, entrepreneurial dreams.
ID- When did you open your Etsy store?
RSD- We opened our Etsy shop in June of 2009 - I woke up early and was reading the Billings Gazette in bed on my smart phone and came across an amazing story about Piper and Paisley and their amazing rise to fame after being discovered on Etsy. I was intrigued as I had never heard of Etsy so I researched and discovered this powerful site that catered to items that were handmade. Etsy was incredibly easy and fun to use and so I opened our "shop" that day featuring our handcrafted leather pillows, bling belts and our very first Red Sky Koozie designs. Etsy does an incredible job of promoting the shops and getting your "face" on Google. Even though it takes time to learn all of the angles and advertising opportunities - Etsy is right there with blogs, treasuries, community and help sites to aid you in your success.
ID- That's a great story and perhaps similar to many of us on Etsy. :-) Do you have other venues you sell at, like craft shows or other online stores?
RSD-
Red Sky Designs is an official "Made In Montana" product as all of our items are handcrafted in our Montana shop. We are a vendor at the annual Wholesale/Retail Made in Montana Show in March in Great Falls, Montana and we also exhibit at all three of the Billings Wholesale Market shows in Billings Montana. We currently have 45 stores that we wholesale our Red Sky Koozies to and we also do a tremendous amount of retail business out of both our
MontanaRedSkyDesigns.Etsy.com
and our
RedSkyDesigns.com
websites. We are very fortunate that Red Sky Designs is doing five times the amount of business that we were doing last year and we are continuing to get calls for very large customized orders from all over the United States. As of today we are very proud to say that we have shipped our Red Sky Koozies to over 43 states as well as to Canada and Australia and we have not received one single koozie back nor have we received one single complaint about our products. :)
ID- Wow! That's awesome! What is one of your favorite items in your store?
RSD-
Our Red Sky Koozies !!!! My personal favorites are the Beaver Can Koozies and my Tri Colored Beer Bottle Koozie - I also love my coffee cup/pint koozie - Tim's favorite is his
Bison Leather Beer Bottle Koozie
or his Bison coffee cup/pint koozie - we literally do NOT leave home without them and we are constantly giving out business cards to anyone who sees our koozies.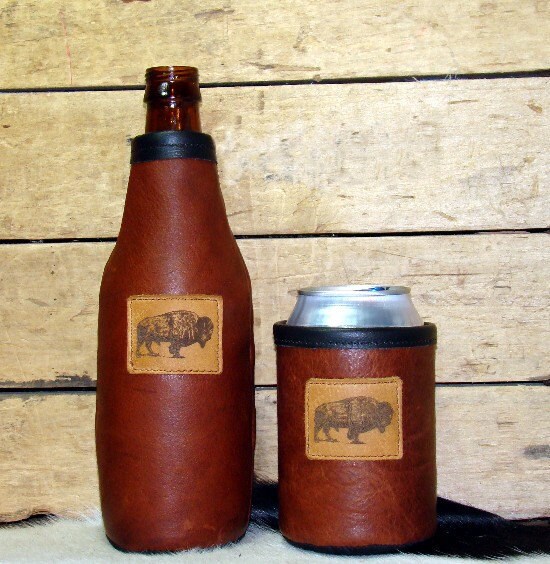 ID- Where do you gain inspiration for your items?
RSD- We both LOVE the look, feel and smell of leather and are constantly thinking of new ways to use this amazing natural product whether it is in koozies, cuffs or other durable items that just look and feel WAY cooler in leather !
ID- Do you feel like you have found a niche for the items you sell?
RSD- Red Sky Designs has been very fortunate in the organic growth of our products and our company. Our Red Sky Koozies have been very popular in both the gift and tourist markets as it is certainly a very useful product that not everyone has and it a great gift to give OR receive! We are continually complimented regarding the quality of our craftsmanship and the extreme quality of the leather that we hand select for our products. Simply put, the quality of our Red Sky Koozies creates a niche that we are very thankful for.
ID- I can certainly say I've never seen anything like your Koozies. Where do you see your shop in 5 years?
RSD- Red Sky Designs was started as a "fun money" and eventual "retirement money" business. We are very pleased and thankful to say that RSD has has grown so fast in the past year and a half that it has also become the "college fund money" for our two awesome kids. We take a tremendous amount of pride and pleasure in knowing that we create products that others are excited to give as gifts. On Christmas morning we are both beaming thinking about the number of people that will be enjoying our Red Sky Koozies with their favorite beverage that day. In five years we see Red Sky Designs as the single source of income for the two of us which will allow us to travel to spend time with their kids and their families and to truly enjoy a creative and fulfilling lifestyle that has always been our dream. We are always excited about every new order and we look forward to the opportunity to continue to play "Santa Claus" for a very long time.
ID- It looks like that is a very achievable dream. Congratulations! What advice can you give your fellow team members?
RSD- I know that it sounds trite, but really....FOLLOW YOUR DREAMS. You can do whatever you set your mind to as long as you are willing to put the time and the hours into, making your dreams come true. Listen to the wonderful wisdom of others, ask questions, LISTEN again and most importantly WORK HARD so you can PLAY HARD. Life is too short to dwell on the "what ifs" so be sure that your focus is on the "What's next". It is SOOOOO easy to sell what YOU love and what YOU love using ! Make sure your customers are happy and that they feel the pure joy that you put into your products. Energy is a terrible thing to waste and if the first idea you have doesn't work, try your next idea, and your next, or your next and don't ever, ever quit!
Thank you so much! Lori and Tim your advice and story are very inspiring! We are glad to have you part of our team and to show our appreciation we will head over to your site to circle you.
http://www.etsy.com/shop/MontanaRedSkyDesigns