Made 2 Order Tie Dye is run by Brian, who lives in Henderson, Nevada. He's fairly new to Etsy, so lets she what he likes about running a Tie Dye store.
Infused Designs- How did you come up with the name for your store?
Made2Order- I came up with the name with the idea of making only custom tie dye shirts. The problem is each tie dye is very unique. That being said, about half of my orders are custom orders based on the designs I currently have for sale.
ID- Yes, I can't imagine being able to reproduce the same design twice. How long have you been crafting, and who taught you?
M2O- I have been dying for about one year. I am self - taught; my tie dye experience began as a school project in my science department. I teach at the middle school level and I was invited to participate - one shirt and I was hooked! I have not had any formal training, most of my designs and patterns are through trial and error.
ID- When did you open your Etsy store?
M2O- I opened my store in May on 2011 on my birthday.
ID- That's great! I guess you'll never forget what day you opened your store. Do you have other venues you sell at, like craft shows or other online stores?
M2O- I have an online school supply business (
schoolsuppliestoyou.com
) that has some of my shirts posted but I have not set up that side of the business the way I want to yet - a work in progress.
ID- What is one of your favorite items in your store?
M2O- One of my favorite patterns is the double spiral; I also like the stained glass effect that has black running through the shirt. I have a picture on one below.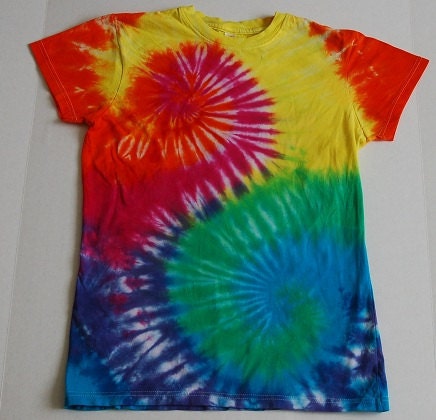 ID- Wow! That is cool! I love the rainbow colors. A nice affect! Where do you gain inspiration for your items?
M2O- I gain inspiration from other tie dye designers on the site - there are some amazing designs out there.
ID- Do you feel like you have found a niche for the items you sell?
M2O- I don't think I have found my niche yet but I am patient!
ID- <laugh> Patience is key! Where do you see your shop in 5 years?
M2O- I hope I am a lot busier in five years! Tie dying is a hobby right now but it is something I really enjoy; I plan on sticking with it.
ID- What advice can you give your fellow team members?
M2O- Advice? Be patient while you are getting your name out there; it takes time to build a customer base. My school supply store only had $1500 in sales the first year; we are currently in our fifth year and we should do more than $30,000 in sales this year. It takes time.
$1500 is still impressive! Thank you for giving us your time, Brian, and your advice! OK, everyone now it's time to go pay
Made 2 Order Tie Dye
a visit and add to your circle!