Today we'll take a visit to contemporary art, by Christine Krainock. Christine creates her beautiful abstract, textured paintings in San Diego, California.

Infused Designs- How did you come up with the name for your store?

Contemporary- Well, "Contemporary Art by Christine" is my business name, it just represents the fact that I paint contemporary art. I paint modern, original, abstract, textured oil and acrylic paintings using a palette knife. However, my store name on here comes up as Christine Krainock, because my real business name, "Contemporary Art by Christine" has too many characters for Etsy Shop Names.

ID- How long have you been crafting, and who taught you?

CA- I have been creating art for as long as I can remember! As a small child, all I remember wanting to do was art! I drew, I painted, I drew, I painted more... My grandmother, who was an artist and a painter gave me my first lesson on painting using oils when I was just 13. My first oil painting was a still life, which I still have.

ID- You still have your first painting? Wow, that's neat! I'll bet it will be worth a lot of money some day! Do you have any formal training in any craft/art subject?

CA- This is the question that usually surprises everyone. I actually don't have formal training in the style of painting that I do. I honestly sometimes wonder how on earth I do know how to do it! I have never even watched another person use a palette knife to create paintings. I somehow just seem to have a knack for mixing paint colors and applying them in such a way to create vivid paintings full of texture and depth. Here's a bit of my story... I did take art a few times in high school, mainly drawing classes. I did very well, and my teacher was encouraging me to continue with art in collage, as I very much wanted to do. However, my parents very much did not want me to major in art, and strongly "encouraged" me to focus on a more "sensible" career. So, I became a teacher. I actually have my Masters of Arts Degree in Education. I taught 2nd grade and kindergarten for 13 years. Over the past few years that I taught, I started painting again, more and more. My paintings were selling and started to be collected all over the world (from another website, and locally). After going through some very big and difficult life changes... it brought me to where I am now, painting, and selling my art full time! Although I enjoyed teaching, art has always been my true passion! You could say I am addicted to it! I absolutely love what I do, I feel that passion is even more important than formal training in the arts.

ID- That's awesome! And I can see the passion in your art! When did you open your Etsy store?

CA- I actuall signed up for Etsy March 2011, however, I didn't really start filling my store with inventory until May 2011. Even then, I had to pretty much take all of August "off" as I was so busy with a move and getting my oldest off to start college. It is up and going great now!

ID- Do you have other venues you sell at, like craft shows or other online stores?

CA- Yes, I do sell at art shows, my most recent was one in downtown Denver. I will be participating in a few in the spring, and am considering allowing my work to be put into a good old brink and morter store. For the past few years though, selling online and by word of mouth has been good to me. I do MANY commissioned pieces for clients, for design firms, interior designers, and private collectors. I am kept very busy with commissioned custom pieces alone. I do have my paintings up on a few other sites, but they basically all feed into Etsy, like ebsqart.com, I find it difficult to list each painting on so many different sites. My primary business website is www.contemporaryartbychristine.com . I LOVE my Facebook page! It is a great way for "fans" to "like" me and follow posts on my new paintings, etc. I love reading my fans comments! www.facebook.com/Contemporaryartbychristine .

ID- Great! Thank you for giving us those links! I've liked you and I'm sure others from the team will like you too. ;-D What is one of your favorite items in your store?

CA- Gosh, this is a good question. My family giggles at me when I have to ship off a painting that I have become attached to. They are like my babies! Well, my favorite painting that I had done so far this year, actually sold about a month or so ago, it was called "Goodnight Sweetness". It had a special, touching, meaning in it to me. Out of what I currently have listed in my shop, the painting of three red trees called "Crimson Companions" is my favorite! It is truly stunning in person (photos can never capture how they look in person)! The background looks so "earthy" and organic, and the trees are HIGHLY detailed to give them a beautiful, almost 3-D effect. I love the color palette.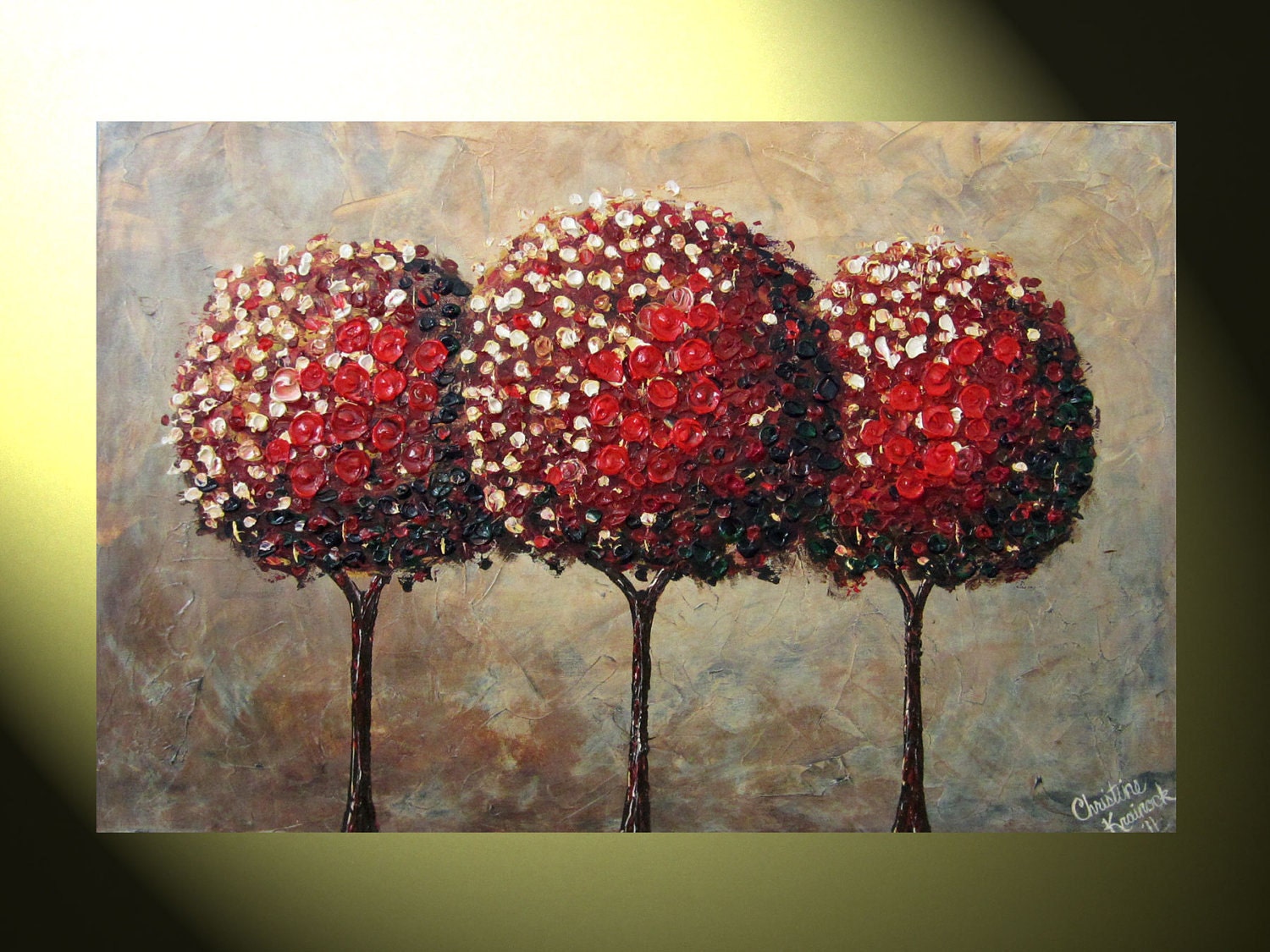 ID- Me too! They remind me of the trees we, as kids, called lolly-pop trees. Where do you gain inspiration for your items?

CA- My inspiration comes primarily from nature, and the beauty and organic textures found in nature. Using palette knives to paint allows me to capture not only the vivid colors we see in the outdoors, but the textures as well. Each day I paint though, a bit of my mood for the day, also of course goes into my work. This is probably apparent. A darker painting with a "lonely" feel was most likely done on a day where my mood, forever whatever reason, let's say, was not so upbeat. Other paintings might reflect my normally positive, cheerful, bubbly personality.

ID- And isn't that one of the beauties of art? That our mood can be captured in it? Do you feel like you have found a niche for the items you sell?

CA- Yes I do. I basically just paint what I love, and I am just so thrilled that others who come across my work either in person or online, have such a positive reaction when they see my paintings! I do feel like, my work is different, and unique due to my own painting style and technique that I use and continue to develop. I feel like I do paint abstract florals, trees, landscapes, which, unlike some artwork, actually DO look so nice displayed in a persons home or office!

ID- Where do you see your shop in 5 years?

CA- Well, considering I feel very new to Etsy, I see my shop just taking off! I really like how Etsy is set up. I hope to continue to get found on Etsy's site and to have even more repeat customers.

ID- What advice can you give your fellow team members?

CA- At the moment I am working to increase my inventory in my shop, the trick is finding that balance between having completed paintings or items, to sell in your shop, and filling custom orders. I find that setting aside days for custom orders, and other days to just "create" from your heart for new pieces, helps to maintain that balance. Try to connect with as many potential buyers as you can! Market yourself, and your name though the social networking sites and across the web as much as possible. It causes a chain reaction to bring buyers into your shop. Even if the person who say, "likes" your Facebook page, doesn't buy from you, THEIR Facebook friend might see their "like" or comment on their newsfeed, find you, fall in love with what you sell, and buy 3 items! Also, don't forget about your own social circle, let everyone you know know what you are selling and where to find you. Again, you never know who might know a friend who owns a shop who wants to display what you are making, or a new salon who would love to hang your artwork, etc. Most importanyly, HAVE FUN! Enjoy what you are doing! We are so lucky to be doing what we love and to be creating beautiful things for others to enjoy!

Christine what a pleasure it has been to get know you and some of your experiences! You've got an exuberant spirit that is catching! Thank you for being out spotlight this week.

To see more of Christine's wonderful paintings and add her to your circle go to her shop at: http://www.etsy.com/shop/ChristineKrainock?ref=seller_info