We're back! The holidays are over and it's time to start doing Spotlights again. This week we're talking to Elizabeth Lyons who resides and designs in Phoenix, Arizona.
Infused Designs- How did you come up with the name for your store?

Elizabeth Lyons- My store is simply called Elizabeth Lyons Designs. At this point in my life, I try to take the simplest route!

ID- How long have you been crafting, and who taught you?

EL- I've been designing jewelry for many years, mostly beading around lampwork beads and unique focal pieces I found here and there. I'm relatively new to metalwork, however, and I'm completely self-taught (however, I should give a lot of credit to the girls I work with at the studio where I rent space. They are incredibly talented, and I've learned quite a lot from each of them!)

ID- Oh, you rent space? We may have to have you tell us more about that on our team forum! Do you have any formal training in any craft/art subject?

EL- I don't have any formal training in any art. I've always been a creative person, and I'm a published author (which, I suppose, is its own art form). But, I'm not trained as a writer, either! My actual degree is in...wait for it...Japanese. I know, it makes no sense.

ID- LOL, When does life makes sense? When did you open your Etsy store?

EL- I opened my Etsy store in 2010.


ID- Do you have other venues you sell at, like craft shows or other online stores?
EL- I have a jewelry-only website,
www.ElizabethLyonsDesigns.com
where I also sell product. I also maintain
ElizabethLyons.com
where I promote my books and other products (I invented a parenting product called the Hold It Baby! On-the-Go Toy Organizer about 2 years ago). But Etsy has far and away been my greatest marketing vehicle for jewelry.
ID- Wow! It looks as though you are a busy person. I love the Hold It Baby! Great idea! What is one of your favorite items in your store?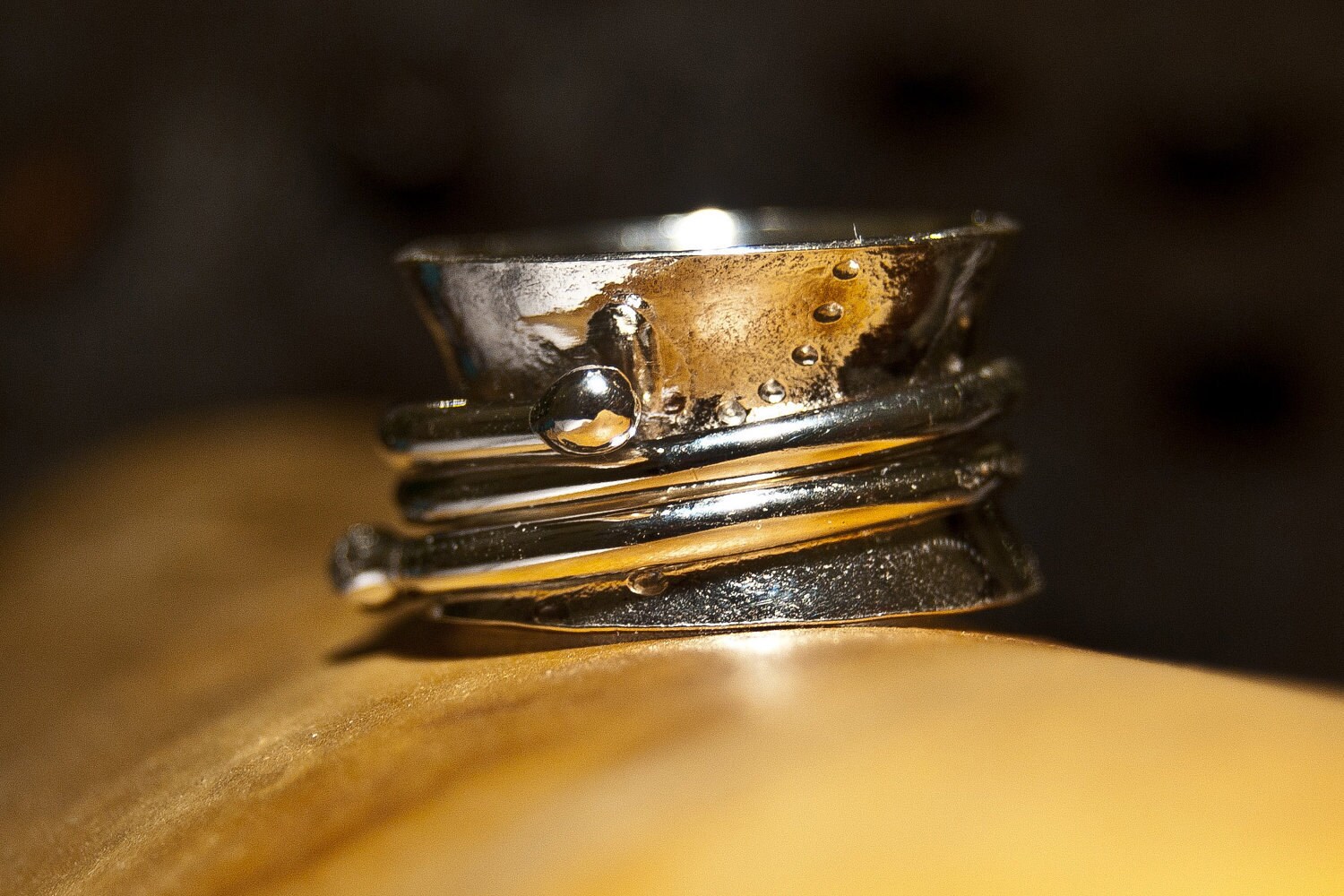 EL- One of my favorite items in my store is the Ava Spinner Ring (
www.etsy.com/listing/90161511/spinner-ring-ava-sterling-silver
). I have been intrigued by Spinner Rings for quite some time, and I love the endless design options that seem to present themselves.
ID- It's gorgeous! I love spirals and that's what this ring is like. Where do you gain inspiration for your items?

EL- The inspiration for my pieces comes from all over the place: a quote I read, a bird I see, a long night dealing with kids who don't want to stay in their beds (in other words, very blurry vision). I prefer organic shapes and textures over more refined ones, and I hope that this comes through in my work.


ID- Do you feel like you have found a niche for the items you sell?

EL- I don't know that I've really identified a niche yet beyond women. I suppose that's a niche, but it's a rather broad one!


ID- Where do you see your shop in 5 years?

EL- Oh gosh, in 5 years I simply hope to still be loving creating unique pieces of jewelry. I have always designed as an escape from the chaos, and it didn't occur to me until recently to sell any of the pieces. Some friends encouraged me to give it a shot, and the vow I made to myself when I decided to give it a try was that I would stop making jewelry for others the moment that it became a "chore." Thankfully, that hasn't yet happened!


ID- What advice can you give your fellow team members?

EL- My advice would simply be to follow your bliss. It's cliche, I know, but one thing I've definitely learned over the years is the value in being true to yourself: being authentic. Don't make anything or sell anything just because someone else tells you that it's a "money maker." Don't make or sell anything that you aren't proud to put your name on. Don't feel badly about taking a break on the days when you just don't feel like making anything --- they come along in everyone's life! You will love some of your pieces more than others, and other people will love some of your pieces more than others. But don't ever let anyone else's "judgment" of your work affect you. You can't please everyone. But be darn sure you please yourself!
Awesome advice, Elizabeth! Thank you so much for taking some time to share your experiences with us.

OK, everyone time to do you part! Comment and visit Elizabeth's store. Favorite a few items and add her to your circle.
http://www.etsy.com/shop/elizabethlyonsdesign