This week its is time for us to meet Charlotte and her "Birdy Helpers," as she calls them, Gerry, Rafa, and Chloe. They are from Billings, Montana.
Infused Designs- How did you come up with the name for your store?
With Love- The name for my store kind of happened by accident. I was thinking about something I was sending as a gift to someone else, and talking with my husband about how we put love into what we do every day, and it just popped up! "With Love From Montana!"
ID- That sounds perfect! How long have you been crafting?
WL- Well, I'm 33, and probably since about age 2! The two biggest constants in my life have been crafting and working with animals, and later for the past 14 years, helping people as a math tutor.
ID- And who taught you?
WL- One of my favorite childhood memories is going on "Nature Walks" with my parents and little sister when we were really small. I remember reaching up up up to hold my dad's hand. We would collect different leaves, flowers, acorns, bugs - whatever caught our little eyes - and took them home to press, preserve, or take care of. We made bookmarks out of the pressed flowers and leaves, and had fun making little terrariums for the bugs. Those bookmarks I suppose were the first big thing that I can remember. It was just so fascinating! I think these Nature Walks and the curiosity and love of investigation they instilled in me really shaped who I grew up to be and influenced my choice to study Genetics in college and go into Genetics research until life brought me out here to Montana four years ago.
ID- That's a wonderful story. Do you have any formal training in any craft/art subject?
WL- Yes and no. I did not study crafts or art in college, save "Art History & Appreciation", but I did have wonderful teachers in other areas! For example, my neighbor up the street, an older woman named Pearl Bowers who has been gone for years now, taught me how to crochet when I was only 7, and I've been doing that every since. As children and teens, my siblings and I were all very involved in our local 4-H club, Pine Ridge 4-H. It's funny, I've met a number of other Etsy artists who also have a 4-H background! Mrs. Pickler taught me cake decorating, Mrs. Briggs taught me all kinds of embroidery and needlework, there was an art class taught by a local high school teacher, and a calligraphy and graphic design class taught by a girl going to college nearby at the time. Sweet elderly Mr. Flemming taught leatherworking even. So while that seed for the urge to create was planted at a very young age, there were many, many wonderful people along the way who shared their knowledge and skills with a bunch of kids, unknowingly changing our lives. :)
ID- That is great that you remember all of those people who had an influence on your creativity. Now many of us can say that. So, when did you open your Etsy store?
WL- My Etsy store opened on Feb 22, 2011, and my first sale was on March 26, 2011. I think I'll do a little celebration on the anniversaries of both those dates, kind of like how people save their first dollar.
ID- That is what I plan to do too. I think we all should. :-) Do you have other venues you sell at, like craft shows or other online stores?
WL- Right now it's just Etsy! It seems too expensive and not worth it at all to do craft shows. Maybe someday that will change for me, but for now, I'm happy with Etsy, though I wish selling on Amazon were not prohibitively expensive. I really appreciate how Etsy makes selling online in a professional venue both affordable and accessible to almost any artist.
ID- I agree. Etsy is wonderful in so many ways. What is one of your favorite items in your store?
WL- Ohhhh, that is a tough question! Well, I love these because they are made from vintage glass beads that I bought in Sacramento, CA when I first went away to college:
www.etsy.com/listing/79025139/vintage-glass-floral-earrings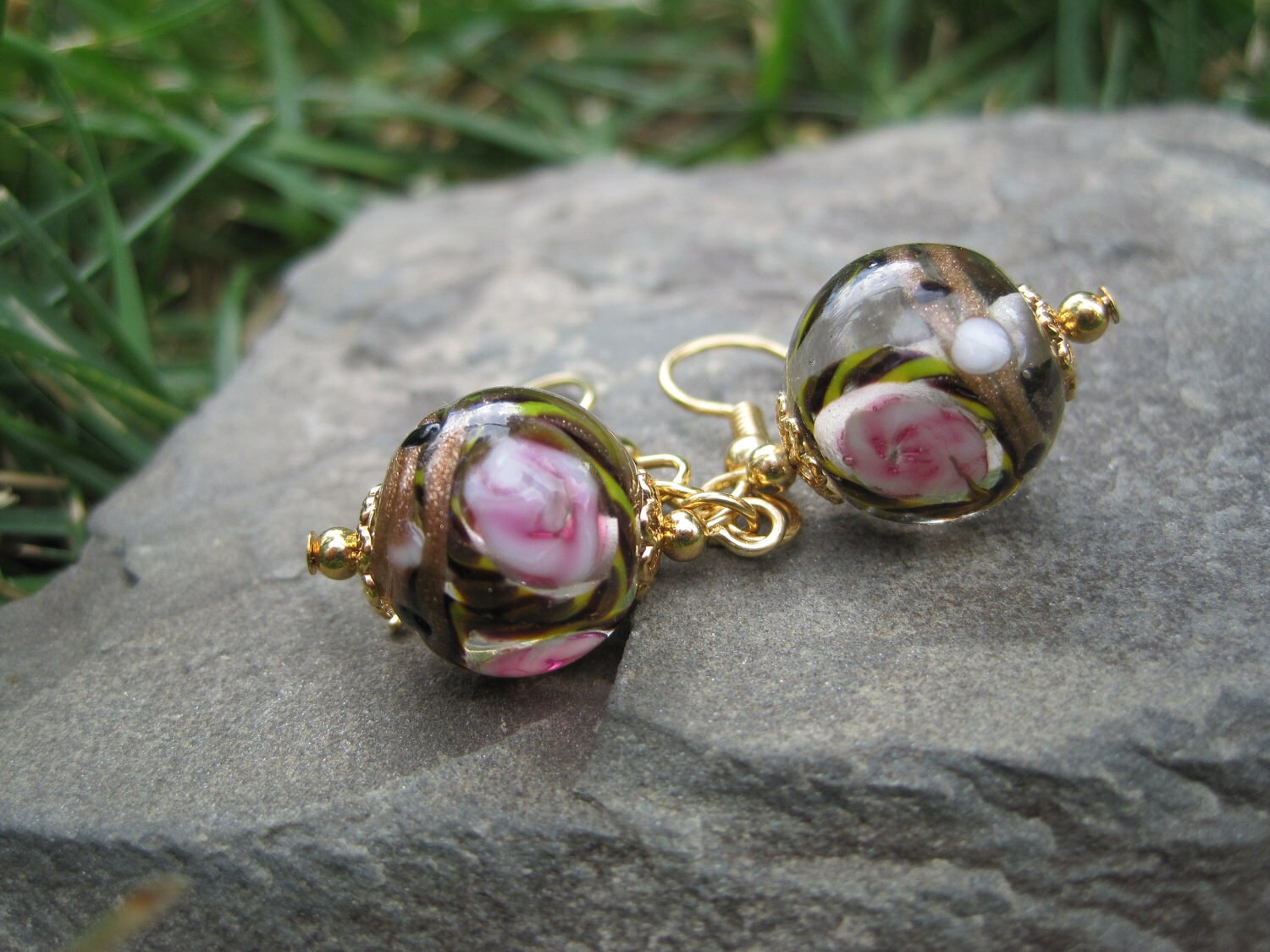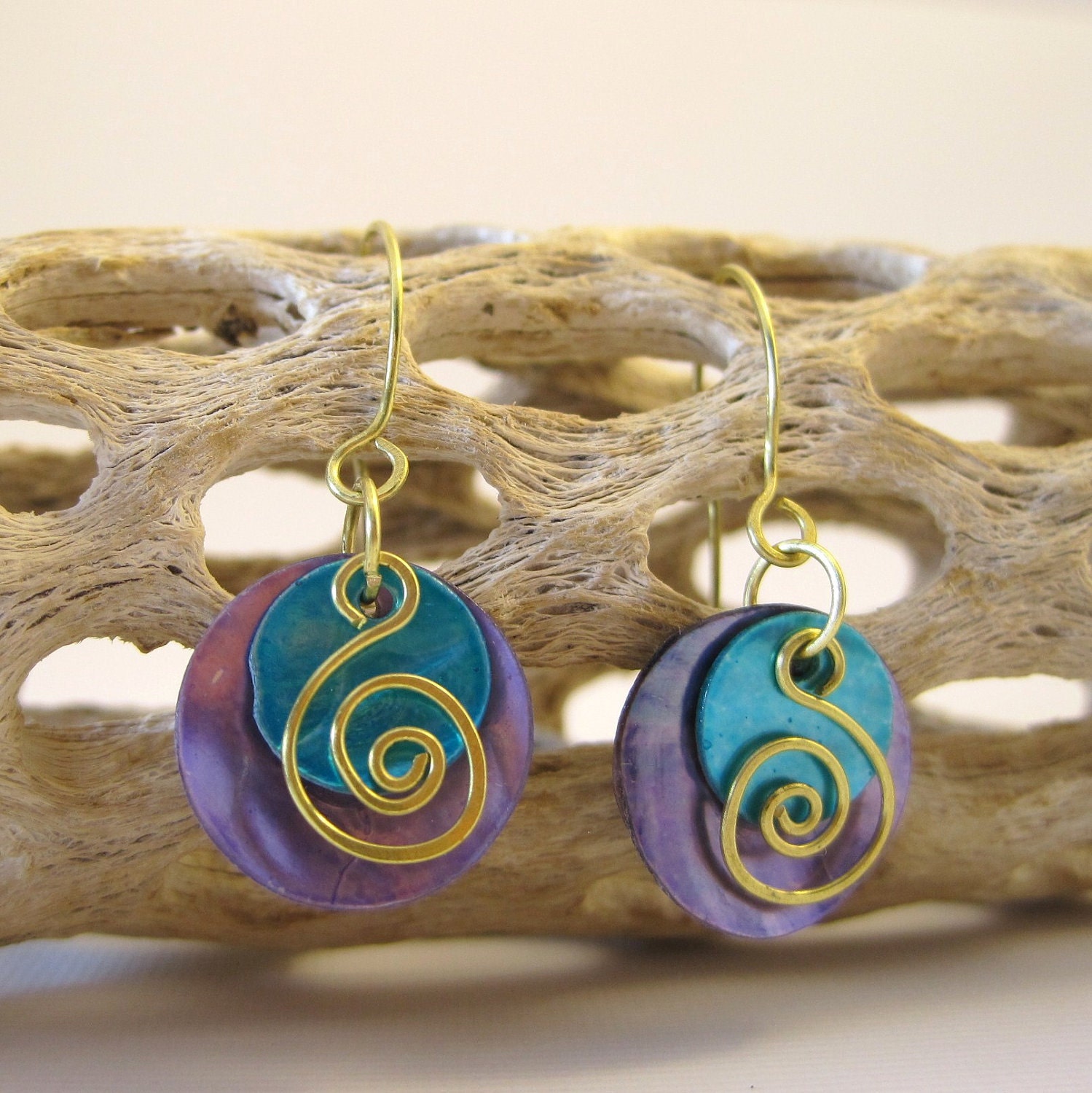 ..but I'm also awfully fond of these, because they are just fun and funky and colorful and very "me" if that makes sense, and they are inspired by my pet peacock that I had as a teenager:
www.etsy.com/listing/76080814/sale-circles-n-spirals-earrings-peacock
ID- Oh those are both very beautiful. I love the peacock ones especially. My favorite colors. Where do you gain inspiration for your items?
WL- Mostly from life. The scientist in me likes looking at things and noticing weird little details, and tinkering with them even more! I'm also very inspired by other artists, and could spend hours upon hours looking at paintings, through magazines, on Etsy at every little thing.... It's like they all call to me, and ask me to tinker and make the ideas my own. I guess that makes it interpretive? I'm not sure... I also love California and I love Montana, so there is also influence from everything from the trees to the wildflowers to the people from where I grew up and where I made my home here.
ID- Do you feel like you have found a niche for the items you sell?
WL- No, not really yet. I *wanted* my niche to be nickel-free or hypoallergenic earrings with an emphasis on genuine gemstones, as little altered from their natural state as possible. So while the biggest section in my shop, "Gemstones for Healing" does focus on this, I feel like there might be more. So, I'm just not sure yet!
ID- Lastly, what advice can you give your fellow team members?
WL- Don't be discouraged by the numbers. It's a horrible trap to fall into getting worried about X amount of sales, or making X amount of dollars. I think what's far more important is to simply DO. Do what you love, and do it often, every day if you can. Someone gave me the advice of listing something new in my shop every single day. Even though that advice will no longer help you in searches after Etsy's move to relevancy, I still think it's really important for a different reason. If you want to be a writer, you need to write every single day. If you're a scientist, you have to read and study and hit the bench, every single day. If you're a teacher or a tutor, you're always thinking about how you can improve your classroom, some lesson, or a technique. The bottom line is: Do what you love, and do it often. You are nurturing your creative self, your creative spirit, and in a way feeding your soul. It's also important to be professional and always focus on customer service, but remember to nurture the part of you that brought you here to Etsy and the Handmade lifestyle in the first place.
Thank you so much for featuring my shop, and thank you for reading about how it came to be.
With Love from Montana,
Charlotte Bottrell, and my Birdy Helpers ♥
Charlotte, thank you for sharing your talents with our team and your advice is great. Let's all take her advice and Do. The first thing to put on your "To Do List" is to show her shop some love at:
http://www.etsy.com/shop/withlovefrommontana