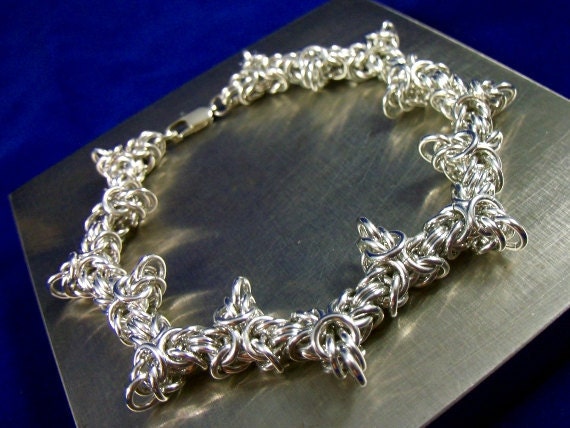 This week we are talking with Christy Brown, a transplanted Canadian now living in Utah with her Texan hubby. And she says she's loving every minute of it. Let's see what this lovely woman has to say about her business and experience.

Infused Designs- How did you come up with the name for your store?

Got Maille?- GOT Maille? by Christy was inspired by the "Got Milk?" TV commercials from way back in the day. I may be dating myself with that one but it was a logo that always stuck with me because it was fun, catchy & I just love milk.. I also love chaimaille.. seemed a perfect marriage!

ID- I think its fun! How long have you been crafting?

GM- Wow, I really have to think back to answer that. It feels like I've always been crafting or creating my own art in one form or another over the years. As a teenager my favorite form of expression was with a basic 2B pencil in sketches which later transitioned to indian inks and later to acrylics on canvas. In my 20's I discovered to love of creating my own beaded jewelry and began a long & continuing love affair with Swarovski crystals that I still enjoy encorporating into my chainmaille designs today.

ID- Who taught you?

GM- I'm self taught. Chainmaille was difficult for me in the beginning & I nearly gave up learning it at all. I had tried it and dropped it many times over the years in frustration, but my determination to learn to create this amazing, ancient craft was strong & I kept trying. This last time I had given up and packed away my pliers & rings for the last time. Then that same night I had a very vivid, lucid dream in which I was taught how to weave chainmaille & told to not give up. I woke up from that dream and immediately unpacked my pliers & rings, followed the instructions of my dream and VOILA! The clouds parted and a path of brilliant, shiny rings were leading the way to many hours of chainmaille bliss.. haha I know it sounds crazy, but that's how it happened! Dreams are powerful things when we choose to listen to them.

ID- I'm glad you didn't give up! Your work is beautiful! Do you have any formal training in any craft/art subject?

GM- No, none.

ID- When did you open your Etsy store?

GM- In Janurary of this year, 2011.

ID- Do you have other venues you sell at, like craft shows or other online stores?

GM- Nothing formal. I do a fair amount of sales directly from my Facebook page & private sales offline, sometimes selling the very pieces I'm wearing while out & about town. That is always a thrill! I am hoping to get more involved with craft fairs in the future & have been invited to join a clan booth at Utah's Scottish Festival next year. I've also started carrying a "brag book" with me in my purse.. just a little 4x6 printed book from Vista Print so that when people are interested I have something to show them right away instead of hoping that they actually go to my Esty shop from my business card. It seems to generate instant interest, sales and most importantly - that personal relationship with potential customers.

ID- Wow, that's great! Good advice for the rest of us to incorporate into our off line marketing. What is one of your favorite items in your store?

GM- Wow, tough question! I love everything so much that I have one of almost everything for myself haha If I had to narrow it down I would have to say right now, it's my Chainmaille Fidget Balls - they are just so freaking fun to "fidget" with!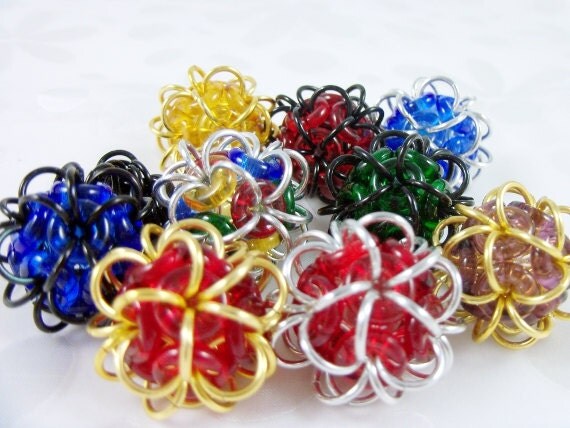 ID- They remind me of hacky sacs from back in the 80's. Where do you gain inspiration for your items?

GM- From everything & anything! There's nothing more fun than sitting with a pile of rings and finding the hidden piece among them waiting to be discovered. I can't think of any one inspiration. Chainmaille is such an ancient art that the majority of weaves themselves are timeless and recreated by all maille artists, sometimes in the classic sense and sometimes with a twist.. like my Barbed Byzantine bracelet that started out as a classic Byzantine weave & I found myself adding to it as I went.

ID- Do you feel like you have found a niche for the items you sell?

GM- Chainmaille is it's own niche, I think, so I would have to say yes. I like to think that I have added my own personality to my maille & make unique, interesting pieces among the traditional weaves.

ID- What advice can you give your fellow team members?

GM- We can't make everyone happy and those sales numbers on the page are no indication of our talents, passions or our endless potential. So I will leave you with this, something I'm sure everyone has heard before but it's still so very true. "Love what you do, do what you love." When you love your craft others will love it too, so be true to it and yourselves.. that is what keeps the magic alive.
Christy, it's been great talking with you. Thank you for the wonderful advice and sharing your talents with our team!
You can see more of Christy's chain maille jewelry at:
http://www.etsy.com/shop/GOTMaillebyChristy