Jessica Althouse, who resides in Albuquerque, New Mexico is this month's Spotlight. Let the light shine on her lovely shop full of fun and colorful hemp jewelry designs.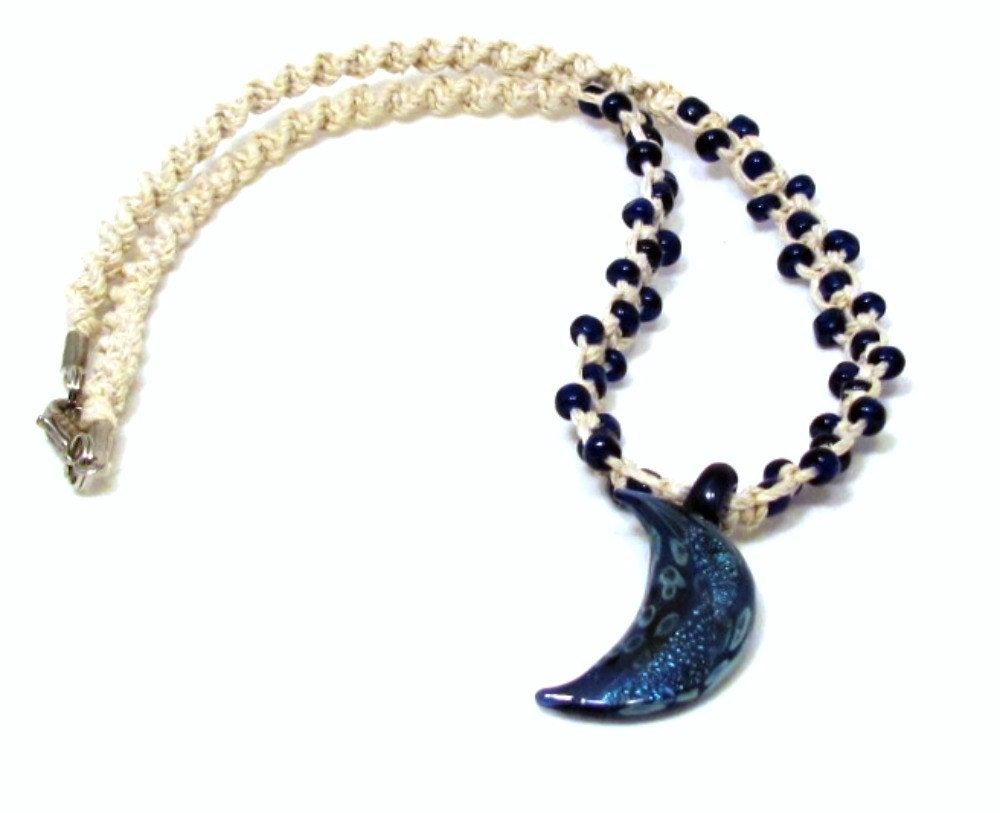 Infused Designs- How did you come up with the name for your store?
MoonSoul Jewelry- I have always loved the night and especially the moon – its beauty and the emotions I feel when I look at it. I moved to New Mexico 7 years ago from Chicago, and the first thing I noticed when driving up to my new home was the beauty of the dark night sky. It seemed so big, the moon and the stars so bright. I felt so connected, and that feeling never stopped. Hence the name, Moon Soul.
ID- That is a beautiful image. How long have you been crafting, and who taught you?
MJ- I have been making jewelry for almost 14 years now, and I am self-taught.
It started when I realized I had a knack for fixing store-bought jewelry, and at some point I thought, "I could make that".
I began with simple bead stringing, tinkering with all kinds of materials and tools until I found what worked for me and held up the best. I used books to learn how to macramé and online tutorials to learn to wire wrap and then took off from there.
ID- Do you have any formal training in any craft/art subject?
MJ- Not really. My schooling and day job are more business and finance oriented, but I've always enjoyed art, music, and writing. I did take a jewelry class in high school that focused on real metal work jewelry making like rings and pendants. I would love to get into that kind of work again once I can afford to get the equipment and set up a bigger space for it.
ID- I know how you feel about more money and bigger space. In fact I'm sure a lot of crafters can relate. When did you open your Etsy store?
MJ- April 20, 2009. I used to mainly give jewelry as gifts, sell to friends and coworkers, and do craft shows. Finally a good friend of mine told me about Etsy and helped motivate and inspire me to open my own shop. It started out really small, just a few items with low quality photographs, but I believe it's grown and really developed in the last year or so.
ID- Wow, a veteran! I would say your store looks like you have put time and energy into it. Congratulations on your anniversary! Do you have other venues you sell at, like craft shows or other online stores?
MJ- I do the occasional craft show, although it's been tough to have the time these past few years. Etsy is perfect for me since I do most of my work at night.
ID- What is one of your favorite items in your store?
MJ- My cobalt blue moon hemp necklace, featuring a glass moon pendant strung on natural hemp with Czech glass seed beads woven into the design. (Pictured Above)
ID- It's gorgeous! I love the moon! Where do you gain inspiration for your items?
MJ- I usually find beads and materials that I love, and then make items to display these materials. I am inspired by the seasons as well, currently seen with the brighter items in my shop right now for summer.
ID- Do you feel like you have found a niche for the items you sell?
MJ- Finding a niche has really been a struggle of mine these past couple of years. Hemp jewelry and my men's jewelry are my best sellers online, but I have a hard time sticking with one thing. I love so many methods of jewelry making and tend to go in spurts where I focus on one method and then move to another, depending how I feel inspired. I worry this makes my shop a little unfocused but it's just in my nature.
ID- LOL, I understand. Where do you see your shop in 5 years?
MJ- I've thought about focusing on hemp, teen, and men's items with my MoonSoulJewelry shop and creating a separate shop for the more feminine women's items.
ID- What advice can you give your fellow team members?
MJ- Photographs are really important. This is another area of struggle for me, but with tips from a friend I've been able to provide stronger photos lately. A light box, a decent camera, and photo editing makes all the difference.
Great, Jessica, thank you so much for the interview and the advice. We all wish you luck in with your store in the future.
You can check out MoonSoul Jewelry at:
http://www.etsy.com/shop/MoonSoulJewelry
Favorite her shop and some of her items to show your support!